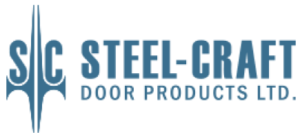 Why Steel-Craft Doors?
Steel-Craft is so passionate about quality materials and parts that they make everything themselves – from garage doors to springs to tracks to rollers. They skimp on nothing, which is a claim that no other garage door manufacturer can make.
Watch the video to see why Steel-Craft is the best in the business.

See What Steel-Craft Doors Will Look Like on Your Home!
Use our design tool to help you choose the best look for your home.
Design Your Door
Basic Design? Not Really.
Steel-Craft designers know garage doors top to bottom, and they make them from the inside out, understanding exactly what architects, homebuilders and homeowners across Canada expect from the Steel-Craft name.
Steel-Craft offers many decorative options, but rest assured that the basic design behind each and every Steel-Craft door is tried and true, and built to withstand heavy use.
Made For Canada.
Steel-Craft starts with high-quality, Canadian-made steel when making our garage doors. With our cutting-edge manufacturing process, our durable steel panels have no open seams, meaning Old Man Winter can't sneak through the cracks and into your home. Being made in Canada means our doors can stand up to our Canadian weather.
Just like the human body, joints are a garage door's weakest link. But our door joints are engineered stronger. Where Steel-Craft roller bolts enter a door panel, we have a patented, best-in-industry method that sees the bolts nest in a triple fold of steel. Even steelmakers wonder how we do it.
A weather seal is good, but a weather lock is better. Our mechanical interlock mechanisms ensure panels fit tightly against each other for smooth opening and closing and energy efficiency. Exterior-grade, double-finned steel/vinyl bottom weather-stripping is the finishing touch to every door's perimeter. A continuous, Arctic-grade vinyl floor seal keeps warmth in and debris out.
Works Hard. Looks Better.
Steel-Craft knows it's not all about strength, durability and function – you want your Steel-Craft garage door to look beautiful, too. Their wood grains are realistic, and they ensure their doors are primed and prepped with care so your white stays bright and your colours don't fade.
In fact, they cover their steel with a heavy-duty zinc coating, followed by a primer, which is then followed by a polyester topcoat. Our doors are easy to clean and built to withstand sun, weather and heavy use. They can also be painted, and we can help guide you to quality paint products.
Questions?
Call us anytime. We're competitively priced, deliver quality workmanship and give exceptional customer service. Our service technicians are on call 24 hours a day, 365 days a year. We look forward to serving you!